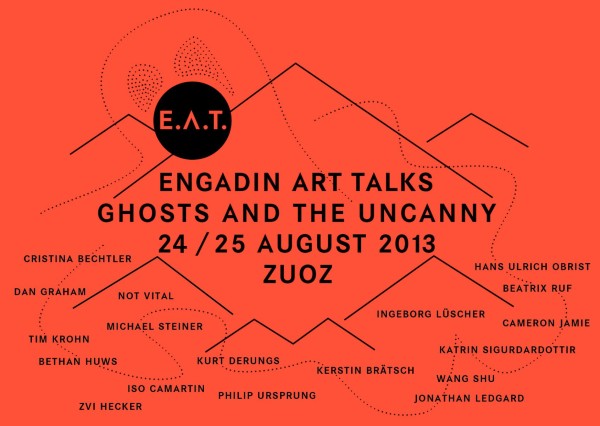 Ghosts, demons and apparitions belong to the world view of pre-scientific man. Ghosts or higher powers were assumed to lie behind all events caused by otherwise incomprehensible natural forces and people believed that they could "understand" irrational and inexplicable events in this way. In mountain regions, in particular, where humans were often defenceless in the face of nature and its power, this world view gave rise to a rich treasury of legends and sagas.
Hence, on the subject of "Ghosts and the Uncanny" the forum participants told legends and sagas and discussed in how far the world of the mountains with its powerful natural spectacles remains a source of inspiration for many people today.
Curated by Hans Ulrich Obrist, Beatrix Ruf and Philip Ursprung.
10:00 - 10:30
INTRODUCTION
Flurin Wieser
Christine Bechtler
Hans Ulrich Obrist
Beatrix Ruf
10:30 - 11:00
RETIA OBSCURA - DIE ANDERSWELT DER MUMA VEGLIA IN GRAUBÜNDEN
Kurt Derungs
11:00 - 11:30
THE EXISTENCE OF JINN IN OUR WORLD
Jonathan Ledgard
12:00 - 12:30
MOUNTAIN PEOPLE
Bethan Huws
12:30 - 13:00
TRANSFORMATION: UNHEIMLICH REAL
Hubert Klumpner
15:00 - 15:30
READING FROM "VRENELIS GÄRTLI"
Tim Krohn
15:30 - 16:00
THE MOUNTAIN AND THE BOOK
Zvi Hecker
16:00 - 16:30
MEDUSA
Christian Holstad
17:00 - 17:30
ILLUSIONEN IN DER KUNSTWELT
Iso Camartin
17:30 - 18:00
DWARVES AND OTHERS
Not Vital
11:00 - 11:30
A PUZZLE FROM THE PAST
Katrin Sigurdardóttir
11:30 - 12:00
NO - DISCONNECTION, ABSENCE AND WHAT'S LEFT
Tobias Madison
12:00 - 12:30
BACKGROUNDNOISE
Ernesto Neto
12:30 - 13:00
GHOST IMAGES IN ARCHITECTURE
Dan Graham
13:00 - 13:30
EXHIBITION VISITS